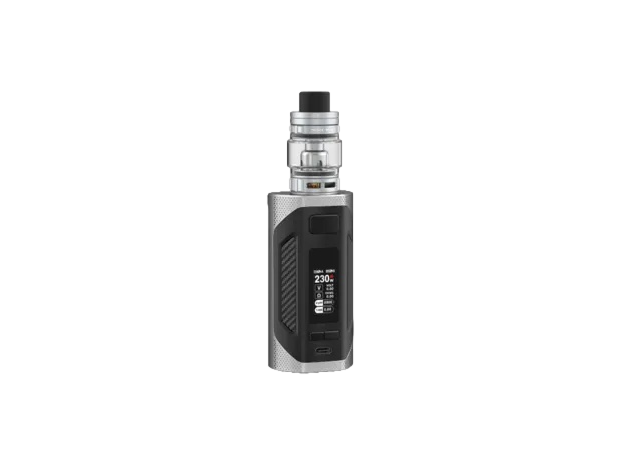 Smok Rigel Kit
SKU 00585
Product Details
SMOK Rigel Kit 230W with TFV9 Sub Ohm Tank is a dual 18650 battery box mod kit which has type-C USB fast charging and a large 6.5mL vape juice capacity.
SMOK RIGEL Kit is a 230W box mod kit to rival any kit currently on the market. Jam packed with freshest features, SMOK RIGEL kit sets a new standard for sub-Ohm starter kits. In the kit comes the awesome TFV9 tank which has a generous 6.5mL vape juice capacity and an easy to use top fill system. To refill, lift and twist the top cap to reveal the large leak proof fill slot. Once filled rotate back and firmly click into place. A nifty feature which keeps kids from being able to open the tank. The airflow features a small column which is designed to minimise noise, which makes the TFV9 very quiet when vaping.
Inside the tank comes the colossal cloud producing SMOK V9 0.15 Ohm Mesh coil, with a replacement V9 coil in the box. The mesh is made from Kanthal and is designed to create the maximum surface area and heat up evenly and quickly. And the RIGEL fires very quickly indeed, just 0.001s before you get that amazing flavor and huge vapor cloud.
The chipset doesn't just provide fast firing, it also has a new UI with larger fonts/icons to make reading the display easier. SMOK has long been the master of the beautiful display and the 0.96 inch TFT screen is no exception. There are 6 color themes to choose from, to change it just press the firing button and the up adjustment button at the same time.
For your safety the RIGEL has a large suite of protection features. Intelligent resistance recognition, low battery warning, puff monitoring, 8 second cut-off, short circuit and overheating protection all included.
There are 6 color options to choose from at launch (listed below in the spec). RIGEL mod features a rubberized coating and small honeycomb perforations for amazing grip and hand feel.
Save this product for later