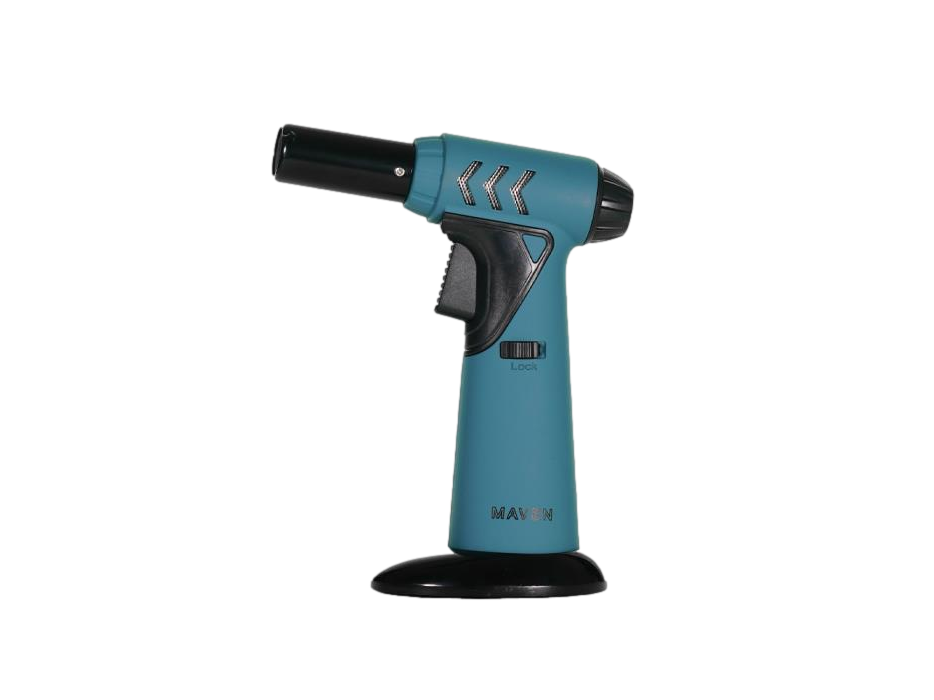 Maven Tornado Torch
SKU 01990
Product Details
Introducing the whirlwind of table torches, our premium Maven Tornado is ideal for any lighting task. The flame base has been shaped strategically for its herculean single jet flame. This table torch is great for handheld or table uses with a trouble free ignition button, safety lock function and adjustable flame intensity. Tornado can act as a cooking torch, welding torch, or even as a camping torch!
Features:
Single Windproof Jet Flame
Adjustable Flame
Safety Lock/ Ignition Hold
Butane Refillable
_________________
Material: Zinc Alloy, Metal
Finish: Metallic

Weight: 15.6 ounces
Size: 6.5 x 3 x 6.5 in
Type: Handheld/Table Torch
Premium Handheld Table Torch: Made with three layers of protections with high quality zinc alloy under premium quality metal casing for durability. Built in base for table uses but can also be used as handheld torch.

Single Jet Torch Lighter with Angled Flame: Powerful single jet flame angled for easy and precise usage.

Easy Adjustable Flame and Refillable Butane Tank: Flame adjuster built in to change flame intensity. Easily refill butane as needed using refill valve at bottom of lighter. Lighters are NOT filled with butane to comply with shipping regulations.

Safety Lock Function: can be locked and unlocked accordingly to avoid accidental flame ignition when not in use

Windproof: Wind Resistant for unpredictable weather conditions so that flame will remain on to avoid disrupting activity or quality of lighting.

Versatile Usage: Perfect for Indoor, Outdoor and travel use including cooking, camping, fishing, crafting, etc.
Save this product for later